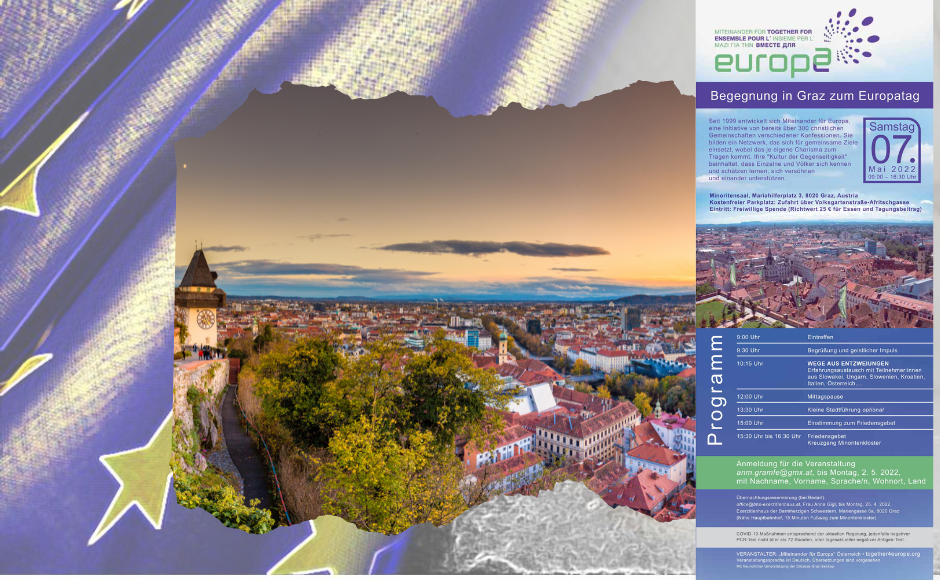 Together for Europe – culture of reciprocity
Since 1999 has grown Together for Europe, an initiative of already more than 300 Christian communities  of different Churches. It is a network which is engaged in shared goals where the charism of each community comes into play. It´s "culture of reciprocity" contains that individuals and peoples get to know and appreciate each other, become reconciled and support each other.
Saturday, 7 May 2022, 9 a.m. – 4.30 p.m.
Minoritensaal, Mariahilferplatz 3, 8020 Graz, Austria
Free parking: Access via Volksgartenstraße-Afritschgasse
Admission: voluntary donation (approx. € 25 for food and conference fee)
The event will be held in German, translations will be provided.
Programme:
9:00 am
Arrival
9:30 am
Welcome and spiritual impulse
10:15 am
Ways out of divisiveness
Exchange of experiences with participants from Slovakia, Hungary, Slovenia, Croatia, Italy, Austria, …
12:00
Lunch break
13:30
Small city tour (optional)
15.00
Attunement to the prayer for peace
15:30  to 16:30
Prayer for Peace in the Cloister of Minorite Monastery
Registration for the event
anm.gramfe@gmx.at until Monday, 2. 5. 2022
with surname, first name, language/s, place of residence, country
Overnight reservation (if required)
office@bhs-exerzitienhaus.at, Ms Anna Gigl
Exerzitienhaus der Barmherzigen Schwestern, Mariengasse 6a, 8020 Graz
(Near the main station, 15 minutes walk to the Minorite Monastery)
COVID-19 measures according to the current regulations, in any case negative PCR test not older than 72 hours or daily negative antigen test.
Organiser: Together for Europe – Austria  together4europe.org/Österreich
With the kind support of the Diocese of Graz-Seckau