The European dream has been, since its very beginning, an opportunity to overcome the mutual distrust and misconceptions which have existed between European peoples for centuries.
Throughout the history of European integration, issues pertinent to young people were often overshadowed by other, no less important topics, such as ecology or workers' rights. This began to change in the 1990s and especially from 2000, when several educational youth exchange programmes including 'Erasmus Mundus' for university students as well as employment support programmes such as the Italian 'Garanzia Giovani' Projects were set up.
For young people, a united Europe is an enticing prospect. Many see it as an opportunity to form a broad community of men and women within which to seek points of contact between cultures and traditions stemming from a shared root. Europe represents an opportunity to work and travel, expand one's horizons and transcend one's own narrow national borders. Young people's protests over Brexit calling for a review of the vote, expressed a strong desire to belong to a Europe with shared values.
Young people's prevailing vision of Europe is not, however, entirely reassuring or optimistic. People of our generation are asking themselves whether the promises of material and spiritual wellbeing, equality and charity between European nations is being upheld. Currently, Italy has a youth unemployment of 40%. Whether the fault for this lies with successive Italian governments or with the European Union, the result is the same: a lack of jobs translates into a lack of dignity (as both Benedict XVI and Francis pointed out). The European reaction to the economic and fiscal crisis has been slow and insufficient and ended up only deepening inequality and causing more suffering. Whilst 5 or 6 years ago, no voices objected to the European project, today, many are tempted to give up on what appears to be a futile dream. Young people are fully aware of these difficulties. As shown by voting preferences in Italy, Spain and France, the so-called "Erasmus generation" has lost some of its lustre for the European dream.
Were the future of the young people considered by those who govern Europe, this situation could be revolutionised. What sort of future lies ahead? What world will we live in? One where society is divided, unjust and full of fear, or another where society is united and reassuring towards its citizens, safeguarding the Rule of Law and looking towards a hopeful future? The latter option is only made possible by a united Europe. To save young people's future, sacrifices are required by those currently in power. This is not about cutting down on cars and salaries. That goal has already been achieved with perhaps excessive alacrity. Rather, the real sacrifice consists in the ability to give up one's own power for the greater good. Why, for example, has a European department of Finance not been established? We are a Union with a currency but without a State. Why does the concept of European diplomacy as such, not exist? Maintaining official diplomatic relations among countries belonging to, what is effectively, a quasi-federation, where ministers speak to each other daily, is simply a waste of money. Why is the appointment of the President of the European Commission not done through an election process? Having such an election process within the public sphere, could bring more accountability at the top and more awareness at the roots. Why is this not happening or if it is, why in such a lethargic fashion?
Those who are Christian have an answer. They understand the difference between power used for one's own aims and power exercised as a duty of care sustaining communities. Young people are undoubtedly prepared to support the European dream, provided that it stems from a community of men and women, not from selfish interests or mere regulations. Only through shared objectives and an awareness of a joint destiny can a cultural leap be taken which Europe is calling for. A leap which can be made from one day to another because, as was said before, it is people's choice that changes the course of history.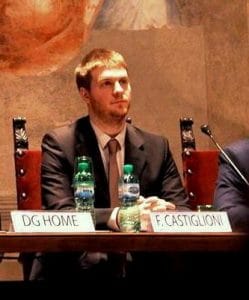 by Federico Castiglioni (Rome, 17/11/88). Holds a Degree in Political Science and is currently pursuing a PhD in European and International studies at the University of Rome III. Federico has published a number of academic and lay articles on the theme of European topicality and the role of the European Union in a globalised world. He is also responsible for External Relations in the Italian section of JEF (Young European Federalists) and acts as Italian delegate for the European Youth Forum.